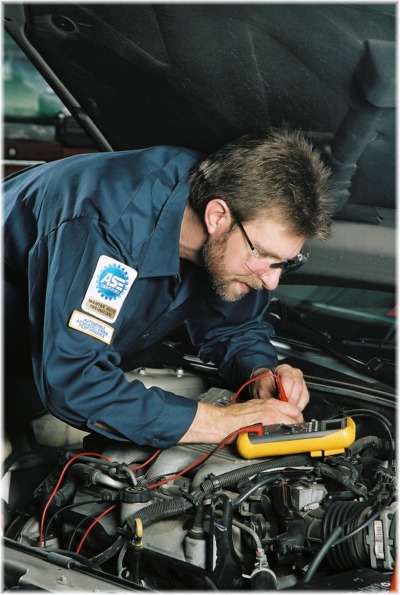 Thirty-Year Old Program Helps Take the Guesswork Out of Finding a Good Technician
Finding a competent auto technician need not be a matter of chance. Much of the guesswork has been eliminated, thanks to the national program conducted by the non-profit National Institute for Automotive Service Excellence (ASE).
ASE tests and certifies automotive professionals in all major technical areas of repair and service. With more than 430,000 currently certified professionals, the ASE program is national in scope and has industry-wide acceptance and recognition. ASE-certified technicians and parts specialists can be found at every type of repair facility, from dealerships, service stations, and franchises to parts stores, independent garages, and even municipal fleets.
Certification Benefits Motorists
ASE certifies the technical competence of individual technicians, not repair facilities. Before taking ASE certification tests, many technicians attend training classes or study on their own in order to brush up on their knowledge. By passing difficult, national tests, ASE certified technicians prove their technical competence to themselves, to their employers, and to their customers.
What's more, because the ASE program is primarily voluntary, ASE certification becomes a self-selecting credential that weeds out the incompetent. And while ASE does not certify repair shops or police individual business practices, it stands to reason that those shop owners and managers who support their service employees' efforts to become technically certified will be as concerned about the other aspects of their business as well.
How Certification Works
About 100,000 technicians take ASE tests each May and November at over 700 locations. Technicians who pass at least one exam and fulfill the two-year work experience requirement become ASE certified. Those who pass a battery of exams (and fulfill the experience requirement) earn Master Technician status. The tests, developed by industry experts with oversight from ASE's own in-house pros, are administered by ACT, the same group known for its college entrance exams.
There are specialty exams covering all major areas of repair. There are eight tests for auto technicians alone: Engine Repair, Engine Performance, Electrical/Electronic Systems, Brakes, Heating and Air Conditioning, Suspension and Steering, Manual Drive Train and Axles, and Automatic Transmissions. (There are also exams for collision repair/paint technicians, damage estimators, parts specialists, and others.) ASE certification is not for life. ASE requires technicians to re-test every five years to keep up with technology and to remain certified. All ASE credentials have expiration dates.
Finding ASE-Certified Technicians
Repair establishments with at least one ASE technician are permitted to display the ASE sign. Each ASE professional is issued personalized credentials listing his or her exact area(s) of certification and an appropriate shoulder insignia. Technicians are also issued certificates that employers often post in the customer-service area. And employers often display the blue and white ASE sign as well.
Businesses with a high level of commitment to the ASE program (75 percent of service personnel certified) are entitled to a special "Blue Seal of Excellence" recognition from ASE. These elite facilities are among the best in the national. More than 1,500 businesses participate in this growing program.
Choosing the Right Technician
As with other professionals – physicians come to mind – automotive technicians often specialize. So it's wise to ask the shop owner or service manager for a technician who is certified in the appropriate area, say, brakes, engine repair, or air conditioning.