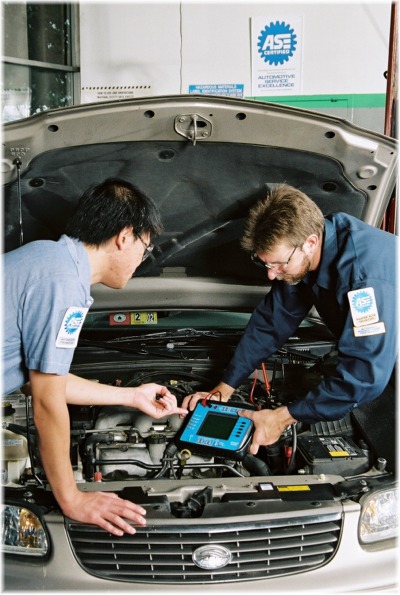 New to your town or city? Looking for a good repair shop?
The National Institute for Automotive Service Excellence (ASE), a non-profit organization that tests and certifies the competence of individual automotive repair technicians, offers the following tips on choosing a repair facility.
Look for a repair facility before you need one; you can make better decisions when you are not rushed.
Ask friends and associates for their recommendations.
Consult local consumer organization about the reputation of the shop; inquire about the number, nature, and resolution of complaints.
Do not choose a shop based only on a convenient location.
You probably won't find hospital-clean conditions, but look for a tidy, well-organized facility, with vehicles in the parking lot equal in value to your own and modern equipment in the service bays.
Ask if the shop usually handles your vehicle make and model or type of repair. Some facilities specialize.
Look for signs of technician competence. The customer area should display trade school diplomas, certificates of advanced course work, and ASE certifications – a nationally recognized standard of technician competence.
Look too for community service awards, plaques for civic involvement, customer service awards, membership in the Better Business Bureau and other consumer groups.
Professionally run establishments will have a courteous, helpful staff. The manager, service writer, or technician should be willing to answer your questions.
Labor rates, fees for testing and diagnostic work, guarantees, methods of payment, etc. should be posted.
Feel free to ask for the names of a few customers as references. Call them.
Start with a minor job. Reward good service with repeat business and more complex work.